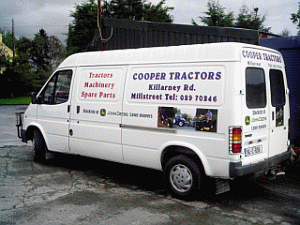 Charlie Cooper set up Cooper Tractors in 1989 with a highly reputable name in the repair and maintenance of
tractors
and machinery.
Ever since the company has evolved and the name "Cooper Tractors" is synonymous with the sale and service of quality used and new tractors and agricultural machinery in the Cork and Kerry region.
We also stock all major replacement parts for the upkeep and maintenance of your tractor and machinery.
As well as providing a service for the farming community we also stock John Deere push and ride-on lawnmowers to suit the needs of the residential customers.
We hope you use our site to view our products and if you do not find what you are looking for please contact us. We will be glad to be of assistance and offer you advice on what you require and check the availability through our extensive contacts in Ireland and the UK.